Martin Luther King Jr Day Host: Prof Dr Victor B Lawrence Standards Racial Bias in Technology Pulse Oximeter, and More
---
Martin Luther King Jr Day Host: Prof Dr Victor B Lawrence Standards Racial Bias in Technology Pulse Oximeter, and More
---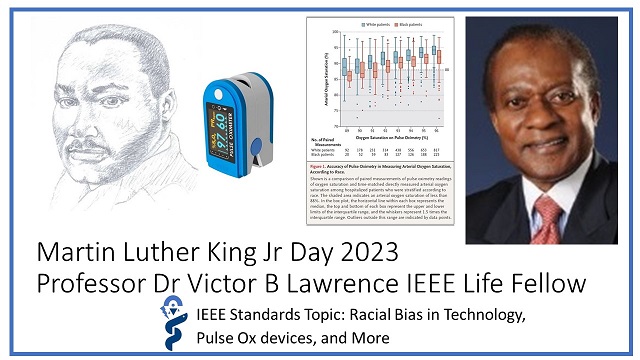 Host: Professor Dr Victor B Lawrence
Guest speakers will also present.
Recently we have seen many news and research articles demonstrating a long overlooked effect, racial bias, of using Pulse Ox devices to care for people with dark skin resulting in delay in diagnosis, delay in care, miss allocation of resources staff and equipment, poor outcomes, and harm to many people including but not limited to morbidity and mortality. COVID-19 is one health condition crisis of unprecedented magnitude; disparity in impact of COVID-19 has brought attention to racial bias in health and medical devices when use of the Pulse Ox devices resulted in devastating outcomes. This is but one of many examples of ongoing multidimensional and systemic racial bias at all phases of the innovation and technology life cycle, human interface, and outcomes. In addition, people with certain preexisting health conditions are not candidates for the Pulse Ox device. There is also gender, language, cultural bias, and access to communication and information complicating the use-inspired challenges. They impact social determinants of health. They must be addressed when gathering teams, engaging stakeholders, gathering user needs, designing systems, designing studies, DEI of participation, research, publications, algorithms, devices, methods, updating after market findings and data, training, follow-up, use in health and well-being, and more.
Working with data from the past is not going to reduce racial bias, nor will it result in improved future algorithms, AI/ML, etc. Research and industry stakeholders should facilitate transparent design, improve communication and literacy of those who use devices, monitor and report how devices are used, and incorporate updated data, even small data, and experiences of users over time.
We connect this effort to Humanitarian Activities, DEI, sustainability, resilience, UN Sustainable Development Goals, Social Determinants of Health. All that and world class technology solutions, too.
Let's gather on the occasion of Martin Luther King Jr Day, 16 January 2023, to establish a plan to address our interest in reducing racial bias and address how Pulse Ox devices and other health and wellness technologies, devices, AI/ML, algorithms, methods, etc. can be improved through transformative Standards and related activities.
This meeting will provide an excellent opportunity to plan a Webinar, white paper, and future actions to advance technology for humanity.
---
  Date and Time
  Location
  Hosts
  Registration
---
Date: 16 Jan 2023
Time: 07:00 PM to 09:00 PM
All times are (UTC-05:00) Eastern Time (US & Canada)
Add Event to Calendar
Martin Luther King Jr Day Host: Prof Dr Victor B Lawrence Standards Racial Bias in Technology Pulse Oximeter, and More
Monday, January 16, 2023
7:00 PM  |  (UTC-05:00) Eastern Time (US & Canada)  |  2 hrs
https://ieeemeetings.webex.com/ieeemeetings/j.php?MTID=m976200c05a6cd95fb93186a2a3e9b25f
| | |
| --- | --- |
| Meeting number: | 2534 283 4594 |
| Meeting password: | Jd4CQtiKH33 |
Dial 25342834594@ieeemeetings.webex.com
You can also dial 173.243.2.68 and enter your meeting number.
Join from a video system or application
To dial from an IEEE Video Conference System: *1 2534 283 4594
Tap to join from a mobile device (attendees only)
Co-sponsored by

Katherine Grace August, PhD (Kit)
---
  Speakers

Professor Dr Victor B Lawrence
Biography:
Victor Lawrence is a Distinguished Research Professor and the Director of the Center for Intelligent Networked Systems, Stevens Institute of Technology.,He was inducted into the U.S. National Inventors Hall of Fame in 2016. He is a Member of the U.S. National Academy of Engineering, a Fellow of the IEEE, Fellow of AT&T Bell Labs, and Charter Fellow of the National Academy of Inventors. He has received several professional awards and honors including the 2007 IEEE Simon Ramo Gold Medal, the 2004 IEEE Award in International Communications, and an Emmy Award for HDTV Standard in 1997.,Before joining Stevens Institute of Technology, Dr. Lawrence worked for Bell Laboratories for many years, retiring as Vice President, Advanced Communications Technology – Bell Laboratories, AT&T, Lucent Technologies. He led the development of technologies for worldwide communications networks. During his career, his personal research activities provided major contributions to gigabit photonic and wireless networking, signal processing, modem technology, digital techniques, ATM and IP switching and protocols, HDTV, DSL, speech and audio coding, among other areas.
---
Agenda
7:00pm Introduction
7:10pm Presentation by Professor Dr Victor B Lawrence
Discussion
Guests Present
Discussion
Planning Webinar, White Paper, Standards Activities
---
Martin Luther King Jr Day Host: Prof Dr Victor B Lawrence Standards Racial Bias in Technology Pulse Oximeter, and More